WEDNESDAY, MARCH 18TH 7:30PM WORLD PREMIERE: BUOY
SEOUNGHO CHO
Seoungho Cho will screen a series of films dating back to 2003, climaxing
with his most recent work 'Buoy' (6:21 color, sound).  Seoungho Cho is
a 2008 Artist Fellowship recipient of the New York Foundation for the Arts
(NYFA). This presentation is co-sponsored by Artists & Audiences Exchange,
a NYFA public program.  Produced by Namsik Kim, Soundtrack by Stephen
Vitiello.
THURSDAY, MARCH 19TH 6PM – 7PM
MARK & STEPHEN BEASLEY
Mark Beasley is an artist and curator and his brother Stephen Beasley is
an artist and architect.  Past projects include The Propmakers, MOT, London
(with Russell Oxley), Beasley Street at Camden Arts Centre; The Thinking
(with John Russell and LA film-maker Damon Packard) at PS1/MOMA, New York
and Hey Hey Glossolalia at the Stanley Picker gallery, Kingston University,
London. Mark Beasley is currently a curator at Creative Time, New York.
FRIDAY, MARCH 20TH 11AM – 9PM
PETER SIMENSKY - A DAY TRADING
For A DAY TRADING Peter Simensky will host a market in two parts – the
first being a Swap Meet, the second a Neutral Capital / Art exchange. These
two markets will be staged on the top and bottom floors of Museum 52
respectively. The Swap Meet invites all parties to bring art works,
unwanted art supplies, collectables, a song, services, baked goods, etc. to
informally trade between parties. The Neutral Capital / Art exchange
invites artists to sell their projects against Simensky's Neutral Capital
currency – and participate in an ongoing alternative collection economy.
WEEK TWO: 24th – 27th MARCH
TUESDAY, MARCH 24TH 7PM SCREENING
CHERYL DONEGAN - STOP ME IF YOU THINK YOU'VE HEARD THIS ONE BEFORE
(21 mins. Based on Andy Warhol's film, 'Nude Restraint', 1967).
"I am fascinated with Viva's monologue in this film. I think I talk too
much, especially when I am nervous.  The art world makes me nervous.  I'm
not an actress and I wasn't sure what to say so Viva's monologue seemed
perfect.  Warhol said her voice was the most mesmerizing and grating he had
ever heard.  So I cast myself as Viva, and my 9-year-old son as Taylor
Mead.  It's just Mom in the kitchen, serving up a hot dish of cool
leftovers."
WEDNESDAY, MARCH 25TH 11AM – 8PM
MICHAEL MAHALCHICK MAKES A MOVIE
Artist Michael Mahalchick invites everyone to help him make a movie in the
gallery over the course of the day.  Participants are encouraged to bring
props and costumes and will interact with each other.  The narrative will
unfold with each new visitor.
THURSDAY, MARCH 26TH 11AM – 6PM
JACOB ROBICHAUX – INVITATIONAL PERFORMANCES
During his solo show at Museum 52 in 2008 Jacob, whose interest in
performance is shaped by his childhood experiences as an amateur magician,
invited friends and artists to perform with one of the four floor-based
sculptures in the show. Participants randomly selected a sculpture with
which they were to perform.  Jacob invited others to explore his materials
and objects with the same compulsive drive to continually generate meaning
through activity and play. His invitational at Museum 52 will follow
similar lines of activity.
FRIDAY, MARCH 27TH 12PM – 9PM
SARA GREENBERGER RAFFERTY & KYLE RAFFERTY - RESPITE AND REFLECTION
Depression Bake Sale: baked goods that are good for the mood will be sold
throughout the day.  Screening Space: will feature an all-day and evening
program of art and non-art videos/films relating to food, comedy, and
reality. Co-programmed by Sara Greenberger Rafferty and Kyle Rafferty.
MUSEUM 52
95 RIVINGTON STREET
NEW YORK NY 10002
+1 212 228 3090
nyc@museum52.com
museum52.com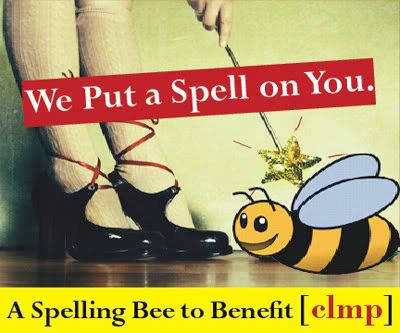 Monday, November 3rd, 2008
Meg Wolitzer returns as Miss Spell to defend her fabulous aluminum foil crown against a swarm of usurping spellers.
7:00pm Bubbles 'n Bites,
Buzzless Bidding Silent Auction.
8:00pm Bee.
We Put a Spell on You is hosted by the Diane von Furstenberg Studio 440 W 14th Street, NYC
Brave Spelling Bees so far! -- Jonathan Adler (TOP DESIGN) Jonathan Burnham (Publisher, HarperCollins) David Carr (THE NIGHT OF THE GUN) Michael Cunningham (SPECIMEN DAYS) David Gates (THE WONDERS OF THE INVISIBLE WORLD) Brooke Geehan (Founder, Accompanied Literary Society) Brad Gooch (FLANNERY: A LIFE OF FLANNERY O'CONNOR) Heidi Julavits (THE USES OF ENCHANTMENT) Wayne Koestenbaum (HOTEL THEORY) Alex Kuczynski (BEAUTY JUNKIES) Honor Moore (THE BISHOP'S DAUGHTER) Michael Musto (LA DOLCE MUSTO, The Village Voice) Sara Nelson (Editor-in-Chief, Publisher's Weekly) Susan Orlean (LAZY LITTLE LOAFERS) Robert Sietsema (Restaurant Critic, Village Voice) Judith Thurman (CLEOPATRA'S NOSE) Meg Wolitzer (THE POSITION)
Emcee -- Bob Morris (Style Section, The New York Times; author, ASSISTED LOVING)
Judge -- Jesse Sheidlower (Editor-at-Large, OXFORD ENGLISH DICTIONARY)
wednesdayseptember3
John Issacs opens at Museum 52, 95 Rivington St, btw Ludlow and Orchard, 6-8pm
Sara Singh and Arlene Guerra open at Gallery Hanahou, 611 Broadway, Ste 730, at Houston, 6-9pm
Sheila Metzner opens at Visual Arts Museum, 209 E 23rd St at 3rd Ave, 6-8pm
Nic Hess opens at The Project, 37 W 57th St, 3rd Fl, btw 5th and 6th, 6-8pm
Skull Theater, a new site project by Lisa Hein and Bob Seng, opens at the Humanities Gallery at Long Island University Brooklyn, Flatbush Ave, btw Willoughby and DeKalb, 6-8pm
Secret Science Club presents Leslie Vosshall, Smell-ologist, at Union Hall, 702 Union St at 5th Ave, 8pm, Free
thursdayseptember4
Scrawl, organized by Harley Spiller, opens at apexart, 291 Church St, btw Walker and White, 6-8pm
Clare Brew and David Malek open at Werkstatte, 55 Great Jones, btw Bowery and Lafayette, 6-9pm
Emily Counts opens at Plane Space, 102 Charles St at Bleecker, 6-8pm
Guaranteed Good opens at Leo Kesting, 812 Washington St at Gansevoort, 7-10pm
Neil Tetkowski opens at HPGRP, 32-36 Little West 12th St at Washington, 6-8pm
Amanda Means opens at Ricco Maresca, 529 W 20th St, 3rd Fl, btw 10th and 11th, 6-8pm
Animus Botanica opens at Denise Bibro, 529 W 20th St, #4W, btw 10th and 11th, 6-8pm
Joseph Peller opens at ACA, 529 W 20th St, 5th Fl, btw 10th and 11th, 6-8pm
Meredyth Sparks opens at Elizabeth Dee, 545 W 20th St, btw 10th and 11th, 6-8pm
Christian Marclay opens at Paula Cooper, 521 W 21st St, btw 10th and 11th, 6-8pm
Ryan Gander and Peggy Preheim open at Tanya Bonakdar, 521 W 21st St, btw 10th and 11th, 6-8pm
Andres Serrano opens at Yvon Lambert, 550 W 21st St, btw 10th and 11th, 6-8pm
Mike Cloud opens at Max Protetch, 511 W 22nd St, btw 10th and 11th, 6-8pm
Roe Ethridge opens at Andrew Kreps, 525 W 22nd St, btw 10th and 11th, 6-8pm
Keith Tyson opens at Pace Wildenstein, 545 W 22nd St, btw 10th and 11th, 6-8pm
Jonathan Calm opens at Caren Golden, 539 W 23rd St, btw 10th and 11th, 6-8pm
Neil Campbell opens at Marianne Boesky, 509 W 24th St, btw10th and 11th, 6-8pm
Allison Schulnik opens at Mike Weiss, 520 W 24th St, btw 10th and 11th, 6-8pm
Jim Pirtle, curated by The Art Guys, and Cecelia Condit, curated by Mary Lucier, open at CUE, 511 W 25th St, btw 10th and 11th, 6-8pm
Chris Duncan opens at Jeff Bailey, 511 W 25th St, #207, btw 10th and 11th, 6-8pm
Jodie Carey opens at Daneyal Mahmood, 511 W 25th St, 3rd Fl, btw 10th and 11th, 6-8pm
Patricia Berube opens at Soho 20, 511 W 25th St, Ste 605, btw 10th and 11th, 5-7pm
Aaron Johnson opens at Stefan Stux, 530 W 25th St, btw 10th and 11th, 6-8pm
Entre Chien et Loup opens at Kent, 541 W 25th St, btw 10th and 11th, 6-8pm
Su Xinping opens at China Square, 545 W 25th St, 8th Fl, btw 10th and 11th, 6-8pm
Olivier Blanckart opens at PPOW, 555 W 25th St, 2nd Fl, btw 10th and 11th, 6-8pm
More than Words opens at Von Lintel, 555 W 25th St, btw 10th and 11th, 6-8pm
Falling Away opens at Lana Santorelli, 110 W 26th St, btw 6th and 7th, 6-9pm
Johnston Foster opens at Rare, 521 W 26th St, btw 10th and 11th, 6-8pm
Larissa Bates opens at Monya Rowe, 526 W 26th St, #605, btw 10th and 11th, 6-8pm
Michal Chelbin opens at Andrea Meislin, 526 W 26th St, #214, btw 10th and 11th, 6-8pm
Kevin Cooley opens at Massimo Audiello, 526 W 26th St, #519, btw 10th and 11th, 6-8pm
Jane Hammond opens at Galerie Lelong, 528 W 26th St, btw 10th and 11th, 6-8pm
Alexey Kallima opens at Lehmann Maupin, 540 W 26th St, btw 10th and 11th, 6-8pm
All Cut Up, curated by Rita De Alencar Pinto opens at Roebling Hall, 606 W 26th St, btw 11th and 12th, 6-8pm
Peter Mallo opens at Walter Randel, 287 10th Ave, btw 26th and 27th St, 6-8pm
Polixeni Papapetrou opens at Foley, 547 W 27th St, 5th Fl, btw 10th and 11th, 6-8pm
The Form Itself, curated by Michael Buhler-Rose opens at Priska C Juschka, 547 W 27th St, btw 10th and 11th, 6-9pm
Farrell and Parkin open at MY Art Prospects, 547 W 27th St, 2nd Fl, btw 10th and 11th, 6-8pm
Josef Koudelka opens at Aperture, 547 W 27th St, 4th Fl, btw 10th and 11th, 6-8pm
Lisa Jarnot and Stacy Szymaszek read at Solas, 232 E 9th St, btw 2nd and 3rd, 7:30pm, Free, presented by St Mark's Bookshop
fridayseptember5
Out Now! opens at e-flux, 41 Essex St at Grand, 6-8pm
Carlos Bevilacqua and Jessica Mein open at Simon Preston, 301 Broome St, btw Forsyth and Eldridge, 6-8pm
Daniel Domig opens at Thrust, 114 Bowery, 3rd Fl, btw Grand and Hester, 6-8pm
Emerging Artist: Juried Screening at ISE Cultural Foundation, 555 Broadway, btw Spring and Prince, 5-8pm
Melodie Provenzano opens at Lyons Wier Ortt, 175 7th Ave at 20th St, 6-9pm
Shimon Attie and Kay Hassan open at Jack Shainman, 513 W 20th St, btw 10th and 11th, 6-8pm
Bendix Harms opens at Anton Kern, 532 W 20th St, btw 10th and 11th, 6-8pm
Michel Auder and Paul Bloodgood open at Newman Popiashvili, 504 W 22nd St, btw 10th and 11th, 6-8pm
Masao Yamamoto and Hiroh Kikai open at Yancey Richardson, 535 W 22nd St, btw 10th and 11th, 6-8pm
Joel Sternfeld opens at Luhring Augustine, 531 W 24th St, btw 10th and 11th, 6-8pm
Baker Overstreet opens at Fredericks and Freiser, 535 W 24th St, btw 10th and 11th, 6-8pm
Thilo Heinzmann opens at Bortolami, 510 W 25th St, btw 10th and 11th, 6pm
Kyung Jeon opens at Tina Kim, 545 W 25th St, 3rd Fl, btw 10th and 11th, 6-8pm
Phyllis Bramson opens at Claire Oliver, 513 W 26th St, btw 10th and 11th, 6-8pm
Jeronimo Elespe opens at John Connelly, 625 W 27th St, btw 11th and 12th, 6-8pm
Yevgeniy Fiks opens at Winkleman, 637 W 27th St, btw 11th and 12th, 6-8pm
Alicia Ross opens at Black and White, 636 W 28th St, btw 11th and 12th, 6-8pm
Opportunity at Community opens at Dieu Donné, 315 W 36th St, btw 8th and 9th, 6-8pm
In Residence: Recent Projects from Sculpture Space opens at EFA Project Space, 323 W 39th St, 2nd Fl, btw 8th and 9th, 6-8pm
Mel Kadel and Suzanne Sattler open at Cinders, 103 Havemeyer St, #2, at Grand, Brooklyn, 7-10pm
David Sandlin and Arthur Cohen open at Jack the Pelican, 487 Driggs Ave, btw N 9th and N 10th, 7-9pm
John O'Connor opens at Pierogi, 177 N 9th St at Bedford, Brooklyn, 7-9pm
Performance by Shaun El C Leonardo and Clifford Owens at Momenta Art, 359 Bedford Ave at S 4th St, 7-9pm
Katie Klencheski and Jude Hughes open at AM Richard, 328 Berry St at S 4th St, Brooklyn, 6-9pm
Hannah Barnes and Kristine Taylor open at Work, 65 Union St, btw Columbia and Van Brunt, Brookyn, 7pm
Men on Maps opens at Haven Arts, 50 Bruckner Blvd, Bldg A, at Alexander Ave, Bronx, 5-9pm
Yasmine Chatila opens at Edelman, 47 E 63rd St, btw Park and Madison, 6-8pm
The Howl Festival begins, full schedule and locations here
Wine and Design at DWR Columbus Avenue, 341 Columbus Ave, btw 76th and 77th, 5-7pm, Free
saturdayseptember6
Reception for Working Space 08, curated by Tatiana Arocha, at Cuchifritos, Essex Street Market, btw Delancey and Rivington, 4-6pm, part of the Howl Festival
Virginie Sommet opens at Collective, 173-171 Canal St, 5th Fl, btw Mott and Elizabeth, 6-9pm
David Opdyke opens at Ronald Feldman, 31 Mercer St, btw Canal and Grand, 6-8pm
Kota Ezawa opens at Murray Guy, 453 W 17th St, btw 9th and 10th, 6-8pm
Zoe Beloff opens at Bellwether, 134 10th Ave, btw 18th and 19th, 6-8pm
Sally Smart opens at Postmasters, 459 W 19th St, btw 9th and 10th, 6-8pm
Fashion Week with Ayah Bdeir on the street in front of Eyebeam, 540 W 21st St, btw 10th and 11th, 4pm
Learn to Read Art: A History of Printed Matter, with a talk by AA Bronson, at Printed Matter, 195 10th Ave, btw 21st and 22nd, 3pm
Vik Muniz opens at Sikkema Jenkins, 530 W 22nd St, btw 10th and 11th, 6-8pm
David Harrison opens at Daniel Reich, 537A W 23rd St, btw 10th and 11th, 6-8pm
Ronnie Bass opens at I-20, 557 W 23rd St, btw 10th and 11th, 6-8pm
Silverstein Photography Annual opens at Silverstein, 535 W 24th St, btw 10th and 11th, 6-8pm
Hooking Up opens at Mary Boone, 541 W 24th St, btw 10th and 11th, 5-7pm
Shannon Plumb and Moyna Flannigan open at Sara Meltzer, 525-531 W 26th St, btw 10th and 11th, 6-8pm
Mona Vatamanu and Florin Tudor open at Lombard Freid, 531 W 26th St, 2nd Fl, btw 10th and 11th, 6-8pm
Dark Pop, curated by Andrew Michael Ford, opens at Last Rites, 511 W 33rd St, btw 10th and 11th, 7-11pm
Charles Seliger and Theodore Roszak open at Michael Rosenfeld, 24 W 57th St, 7th Fl, btw 5th and 6th, 3-6pm
Polar Light: Greenland opens at Look North, 275 Conover St, Ste 4E, at Reed, Brooklyn, 7-9:30pm
Differences in Attitudes About Performance from the 1970s to Today, a panel discussion with Marina Abramovic, Amanda Coogan and Chrissie Iles, at Artists Space, 8pm, Free, rsvp@artistsspace.org
Creative Time presents Mark Tribe's Port Huron Project 6 at Dag Hammarskjold Plaza, 46th St, btw 1st and 2nd, 11am-2pm
sundayseptember7
Creswell Crags opens at Lisa Cooley, 34 Orchard St at Hester, 6-8pm
Raha Raissna opens at Miguel Abreu, 36 Orchard St, btw Canal and Hester, 6:30-9pm
Kevin Bewersdorf opens at V and A, 98 Mott St, btw Hester and Canal, 4-6pm
Vidya Gastaldon opens at Salon 94 Freemans, 1 Freeman Alley at Rivington near Bowery, 6-8pm
Jeffar Khaldi opens at Thierry Goldberg, 5 Rivington St, btw Chrystie and Bowery, 6-8pm
Jennifer Steinkamp opens at Lehmann Maupin, 201 Chrystie St, btw Stanton and Rivington, 12-6pm
Rashawn Griffin opens at Smith-Stewart, 53 Stanton St, btw Eldridge and Forsyth, 4-6pm
Trong G Nguyen opens at Fruit and Flower, 53A Stanton St, btw Eldridge and Forsyth, 7-9pm
Henry Samelson opens at Sunday, 237A Eldridge St, btw Stanton and Houston, 4-6pm
Gravitas opens at Dorsky, 11-03 45th Ave at 11th St, LIC, 2-5pm
mondayseptember8
Padma Viswanathan in conversation with Ann Patty at Mcnally Jackson, 52 Prince St, btw Mulberry and Lafeyette, 7pm
tuesdayseptember9
When Time Becomes Form opens at Artists Space, 38 Greene St, 3rd Fl, btw Grand and Broome, 6pm
Greg Parma Smith opens at Studio 495 at the Swiss Institute, 495 Broadway, 3rd Fl, btw Broome and Spring, 6-8pm
Jordan Wolfson opens at Swiss Institute, 495 Broadway, 3rd Fl, btw Broome and Spring, 6-8pm
Jennifer Coates opens at Kinz Tillou and Feigen, 529 W 20th St, btw 10th and 11th, 6-8pm
Katy Siegel lectures at SVA, 133/141 W 21st St, Rm 101C, btw 6th and 7th, 6:30pm, Free
Louis Bourgeois opens at Cheim and Read, 547 W 25th St, btw 10th and 11th, 6-8pm
Giuseppe Penone opens at Marian Goodman, 24 W 57th St, btw 5th and 6th, 6-8pm
Simon Linke opens at Mireille Mosler, 35 E 67th St at Madison, 6-8pm
An emphasis on the bizarreness of human nature, and the complications of individuality, exists as an experience within Too Far Too Close, the current installation at Deitch Projects by two Brazilian brothers who call themselves Os Gemeos. The split-level gallery, covered in cotton-candy pink, holds an assemblage of paintings, murals, and mixed media projects; the space is truly inhabited.
The sculptural pieces mounted within the entrance floor boldly occupy the space. Their gaze conjures dynamism between their forms and among gallery visitors, who travel around them as if by necessity. One sculptural head, its base the form of a pyramid, has a doorway sliced into its walls. Inside, and far enough from the bumbling music and pinwheel of colors, viewers find space to remember and reflect, but chaos and vibrancy remains. Mirrored edge to edge, the space reflects disjointed and bent versions of the viewer. The pieces sing of the detailed aesthetics in the gallery's open space, and upon returning to the main gallery, one sees the space differently, now considering the segmented parts, just as when confronted with a cracked reflection.
Images of people fill the gallery, with attention given to faces. The figures are caricature-like, their bodies stretched and bloated, in portraits and scenes of recreation and distant memory. The walls hold something akin to a cultural timeline, not a concise story with a beginning and end, and not so much measured by time but by aesthetic. Os Gemeos move their brushes from canvas to wall to floor and ceiling in a vibrant palette of browns, yellows, greens, and reds that proves their confidence in the aesthetic. Suddenly, the figures on the walls come to life as a record player spins and buzzes a semblance of noise. It is the exuberance within each piece that fashions ties between the numerous scenes. Details rush against one another, creating one large, collaborative story.
The small, flashing bulbs, the smooth paint application, the mobile of dangling heads, the body guitar, the towering, wooden twin head sculptures, with window-shutters for ears, sit within the gallery bound by a source of energy inherent in their colors. Strings of candy lights tick on and off, and the faces, bodies, and household items that fill the space form a chaos that ultimately radiates vibrancy. The characters twist and jumble.
Os Gemeos creates a porthole into their understanding of this world and its complications—a decidedly small incision, but a compelling one.
Deitch Projects , 18 Wooster St, btw Canal and Grand, through August 9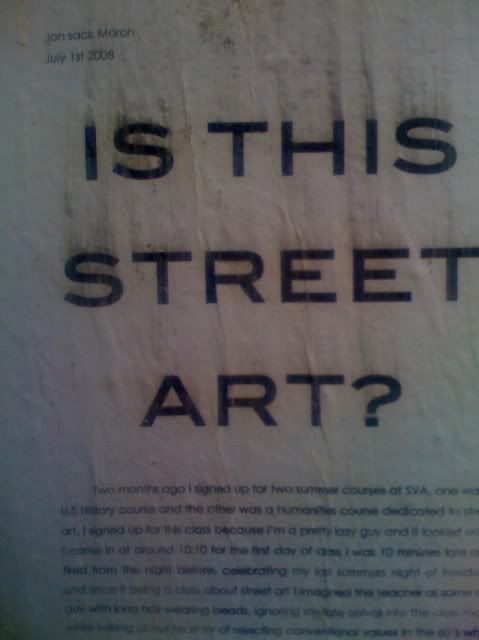 Does anyone have Mr JS Moron's full text? Send it to info@zingmagazine.com. 
In his current show at Tibor de Nagy, Jess Collins articulates the decisively different mediums of painting and paste-ups—one heavy and inflexible, the other thin and free flowing.
Jess' dense application of oil paint lends the heavy quality to his paintings. Layered thickly, these surfaces protrude from a two-dimensional level, their outward appearance bubbled and tactile. Although the paint varies in a spectrum of color, a duskiness pervades—a seriousness maintained by hard edges that delineate one color from the next and develop a puzzle-like veneer. The annexed colors create room for understanding the many pieces as solid, daring moments, like single puzzle pieces, and the paintings' bold quality results from this structural composition as opposed to the color anatomy.
The paste-ups, in contrast, are fluid. Jess grouped selections of magazine cutouts with pages torn out of books and placed them strategically so their images overlap, interlace, and ultimately achieve a larger, grand impression. This medium remains two-dimensional, but the variability of the sprinkled collage pieces allows for an abstract, dense space to unravel as the viewer traverses the image. The paste-ups range in color as well, but instead of resting in a dusky hue, the natural aging of the found materials achieves a mellow tone. Ultimately lighter-toned than the paintings, the paste-ups appear unburdened and almost translucent in their subtlety. The latitude becomes a provocation for foreign, exotic thoughts.
On first look, the mediums divorce Jess' work, but in paintings like "A Mile to the Busstop," one finds cohesion between the two extremes. Here, he uses thinner paints and the more graceful image of a mother and son walking together. Smeared colors give the walk an immediacy of pace and punctuated side images of a goose and balloon become fleeting as their edges dance in synergy with the surroundings. This otherwise traditional oil painting opens for the viewer in much the same manner as it does with the paste-ups. In culmination, a metaphysical atmosphere flickers throughout the image, and the manipulated elements exude sensation and intensity.
The paintings and paste-ups of Jess Collins will line the walls of Tibor de Nagy through July 31st.