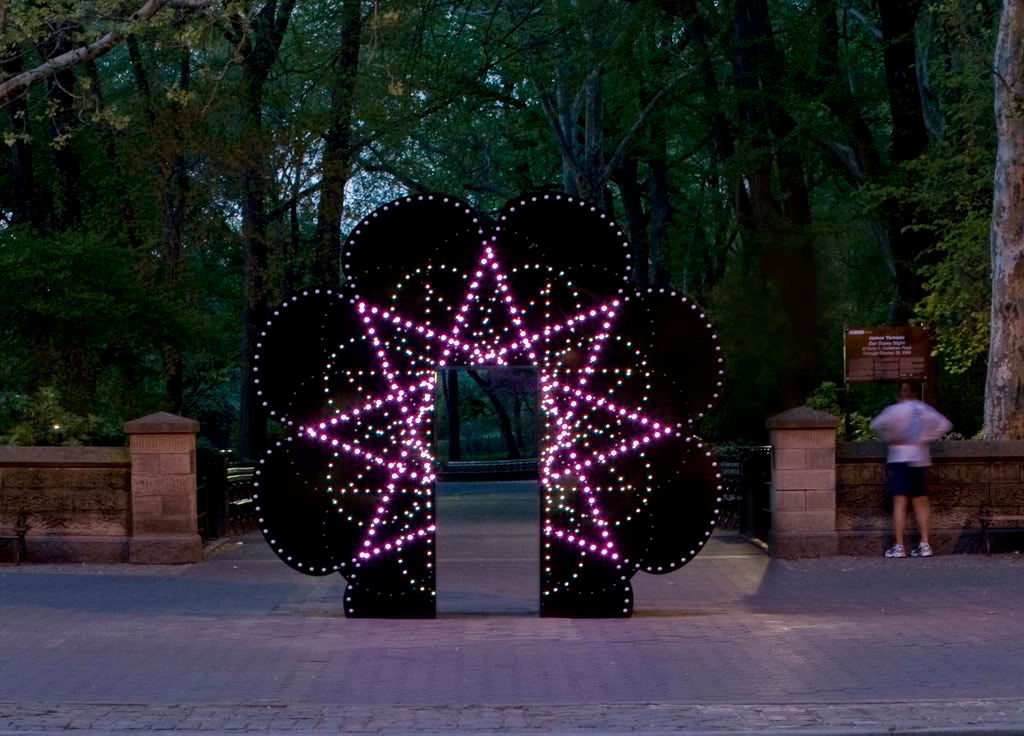 James Yamada's Starry Night at 60th St and 5th Ave, the entrance to Central Park. A hidden metal detector changes the LED lights to reflect the amount of metal on anyone who passes through the gateway. Presented by the Public Art Fund .
James Yamada
Our Starry Night, 2008
On view at Doris C. Freedman Plaza, April 28, 2008 – October 28, 2008
Aluminum, holographic powder coating, metal detector, colored LED lights, and miscellaneous electronics
12' x 12' x 3'4", doorway 6'6" x 2'8" x 3'4"
Photo by Seong Kwon, courtesy of Public Art Fund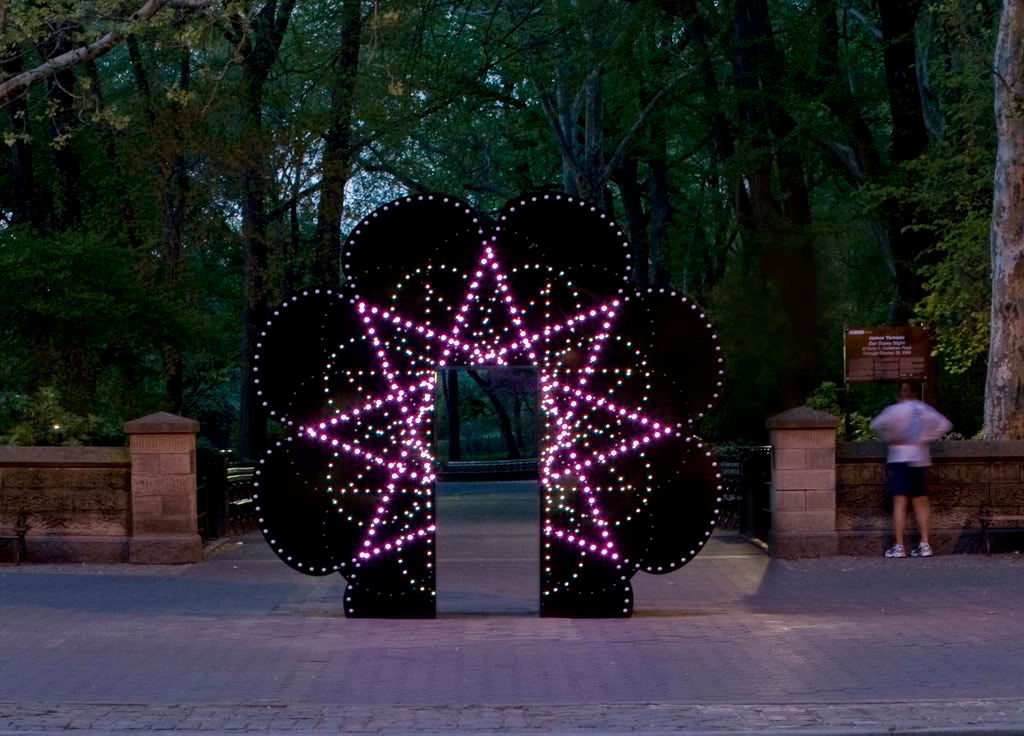 James Yamada's Starry Night at 60th St and 5th Ave, the entrance to Central Park. A hidden metal detector changes the LED lights to reflect the amount of metal on anyone who passes through the gateway. Presented by the Public Art Fund .
zingmagazine and the New School MFA Writing Program Host Vito Acconci
April 17, 2008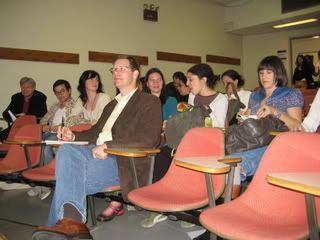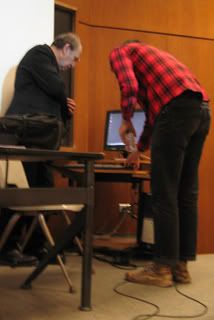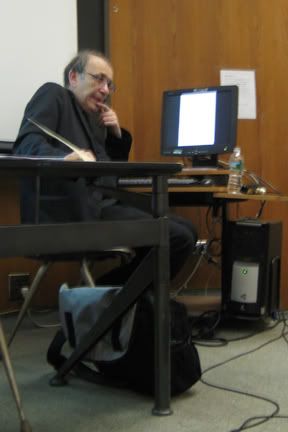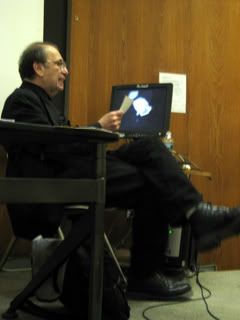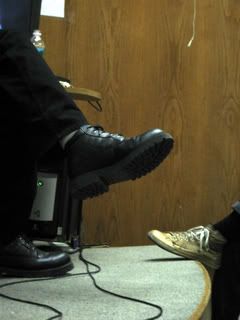 Storefront for Art and Architecture
[Wood-Paneled front, looks as if it were a boarded up building.]
On Mock-ups: Video Exhibition
Part II: Come to Israel: It's Hot and Wet and We Have the Humus
8 April—19 April 2008
Video works by Ruti Sela & Maayan Amir and Yossi Atia & Itamar Rose, Curated by Joshua Simon
Atia & Rose in Tel Aviv as fictional characters interviewing Israelis they meet on the street, take on the issue of the Israeli relationship with race, gender and sexuality. Sela & Amir cover internet dating sites, S&M services, and prostitution, exhibiting the playfulness of the Tel Aviv underground nightlife. For both duos costumes and characters are plentiful.
[Hidden in an apartment building on the ground floor, two rooms, stone floor.]
Matt Connors: Enjambment
13 March—20 April 2008
Most pieces can be defined by their bold (yet muted) colors and rough strokes. Geometrical, simple. The individual paintings are small compared to the large space. Bold yellow wall in the side room is a unique contrast to the stone floor.
[In Freeman's alley, big glass door with purple handles—really cool.]
Amy Bessone: With Friends Like These…
10 April – 23 May 2008
Bessone's paintings are large in scale and have an almost sinister air. The characters are cartoonish and have a glossy look. A particular piece that stood out is of a woman with a cape resembling butterfly wings. It is theatrical, elegant, and bizarre.
[Two levels, typical white box gallery.]
Frank Selby: We Weren't Never Here
27 March- 26 April 2008
Selby uses transparent paper and oddly arranged text to create an intellectually dramatic effect on certain pieces. The drawings shown are on the same transparent paper using black ink that creates thick drips and smudges. A notable piece was a spider web that had an eerie feel because of the drippings. There are several photographs of wooded scenes and civil war photos that seem simple and natural from a distance but are surprisingly crisp up close.
[In what appears to be a house, complete with gate and buzzer to ring for entrance.]
Brendan Fowler: last Disaster / first BARR
9 April- 19 April 2008
Fowler's work on display consists of mostly large framed pieces of white paper with hastily painted words sprawled across at odd angles. Together the collection of what seems to be lyrics speak of writing songs. There are also several deconstructed concert fliers with "canceled" stamped across them.
Kim Gordon Come Across
March 8 - April 9 2008
Kerry Schuss Art
73 Leonard Street
New York, NY 10013
Standing in the center of Kim Gordon's show at KS Art, surrounded by washy portraits of faces that appear to be watching you, or perhaps beyond you, the effect is one of performing for an audience; no surprise, considering Gordon's career in Sonic Youth and the years of blurry spectators and ghostly faces that must float in and out of her memory. They come out of and drift back into a blur, on the cusp of recognition.
Gordon has made twenty to thirty small watercolors for Come Across, which opened on March 8th. The exhibition also features an ambient sound piece—a collaboration with her husband and band mate Thurston Moore that permeates the gallery—and two off-white shag-rugs situated on the varnished wooden floor. The watercolors are painted on rice paper, some framed and leaning against wall-wedges, others hung, unframed, directly on the wall. Up close, they appear to be blobby abstractions, but at a distance, the floating blobs morph into ghostly, ethereal portraits. The works hold a delicate tension between abstraction and figuration, with compositions consisting of bleeding layers of pinks, greens, blacks, gently reflective grays, and glitter-like specks sparkling in the bright over-head lighting.
The title of this exhibition, Come Across, might serve as an invitation to viewers to cross the threshold from spectator to performer. The watercolors become a landscape of audience members and reverse our role, producing the feeling of being surrounded by hollow, gazing faces. The glitter on the portraits and metallic paint suggest a reflection of sorts, the sound element evokes what it must feel like to perform the same music again and again, night after night, and the shag rugs are the rugs we've seen countless musicians stand on while performing. By entering this exhibition space, we come across, moving onto a stage where we can consider the role of the performer and question our own role as spectator.
Contact Chris
 Imagine art that is timely and compelling, saying something about the new, while firmly planting itself in the recent past. Something future regressive. Something worth seeing. Something called Online Newspapers: New York Edition, currently on view at Madison Square Park.
Okay, I admit I was initially compelled to attend this show because of the scarves both artists wore in the promotional postcard. Olia's scarf is genius in that it's a knit of the boring Google ads that pervade and pollute our online life. I loved the transgression of turning the visual annoyance of internet advertising into a covetable fashion accessory. In a way it speaks to Online Newspapers: New York Edition in that the show, too, pushes boundaries, bringing internet based new media outside the world of zeroes, ones, and html.
Adjacent to bustling 23rd St, the setting in Madion Square Park could not have been lovelier—a rare glimpse of the bucolic that most New Yorkers are grossly deprived of. Contained within an oval of deep green groundcover, four mounted screens project the cover pages of the New York Post, The New York Daily News, The Wall Street Journal, and The New York Times. Not the ordinary front pages, but pages layered with a collage of animated horses, kitties, snow, bears, and more.
Internet technology is unique in how fast it evolved, making these examples of detritus all the more important because of the internet's ability to induce amnesia about its original context. The use of kittens, etc. is a reflection of our tendency to sentimentalize anything, including kitten GIFs, and the use of institutional newspapers is a nod to the corporate streamlining of the internet and how quickly things have gone from amateur to expert. While cute and cuddly, these ingratiating animations speak to a time of limited technology in the early 90's, when the internet was dominated by amateur hobbyists and tech geeks. Their cheesy aesthetic speaks to a time of web 'innocence' and visual simplicity. In short, they are awesome.
It struck me that I was outside in a park 'watching' art although I'm not sure if 'watching' is an apt description. I could have been fooled because I've been trained to view electronic screens as media to 'watch'. Whatever the semantics, Lialina & Espenschied's piece astounds us by bringing typically 'inside' art outside. Those accustomed to seeing bronze sculptures in parks will be pleasantly surprised to find art that isn't static. Unlike the shape of some dead white guy, this art draws viewers in, and is engaging by design.
by Peter Killeen
Friends, Hope to see you on Friday! March Madness. New Art, Magic Tunnels, Godzilla Puppets and Pernod Drinks… It's Williamsburg Every Second!
Friday, March 14, (WILLIAMSBURG, Brooklyn)—You've been to the Biennial; now see the brightest new artists before they make their way to the Whitney. Hop from gallery to gallery this Friday night during the monthly art to-do Williamsburg Every Second , where all 38 Greater Williamsburg galleries stay open until 9 pm and beyond.

Love after parties as much as you love art? Starting at 9 pm, join us at Williamsburg's hot new cocktail joint Huckleberry, (588 Grand Street) for Pernod drinks and more—a delicious way to get the discourse flowing about the art you saw. Such as:

HQ (236 Grand Street)—Using puppets and a model of NYC, The Godzilla Project—a collaboration between the Eh-Team and German-Romanian artist Felix Toth—utilizes film and puppet theatre to recreate the infamous city attack.
Parker's Box (193 Grand Street)—Step inside The Tunnel, a solo exhibition by Patrick Martinez. This interactive installation piece invites you to engage in a hypnotic, psychedelic relationship with The Tunnel itself, using touch-screen technology to modify the parameters of your optical and cerebral experience.
Black & White Gallery (483 Driggs Avenue)—Heal the world at Law of the Land by Kim Holleman. An operating manual of sorts of instructions on how to rebuild the environment featuring multi-media both indoors and outdoors.
Capla Kesting Fine Art (121 Roebling Street)—Tonight's closing reception is your last chance to check out Facelift—the latest installment of independent curatorial outpost Bipolart, featuring artists from Amsterdam, Berlin, Warsaw, New York, and LA.
Galeria Janet Kurnatowksi (205 Norman Avenue)— Deborah V. Spiroff's Encountering Why features person-size canvases revealing an animation of color, light and atmosphere. Her gestural abstractions engage the body—Spiroff paints with both hands simultaneously.
Hogar Collection (362 Grand Street)—The Dreamy Dreamer group show features kinetic sculpture, video, photography, and works on paper dealing with regeneration, microcosmic and infinite universes, humor, dreams, science, science fiction and the unconscious mind.
Check the website for complete event listing details.
See you Friday!

SAVE THE DATE: SATURDAY MARCH 29th WILLIAMSBURG ARMORY AFTER HOURS EVENT, CO-PRESENTED WITH BRIDGE ART FAIR, AT SUPREME TRADING 11PM!
404 S Upham St, near the intersection of Wadsworth and Alameda, Lakewood, CO, January 23rd-May 1st Mary Lucier, The Plains of Sweet Regret, and Phil Bender, Last Place, two exhibits that engage in the process of nostalgia and the transitory aspects of memory, opened at the Belmar Laboratory of Art and Ideas last month. Lucier's project, a six screen video installation, depicts the disappearing small-town farming communities of North Dakota, replaced by agri-culture and big business practices. An equally anguished and exuberant portrayal, landscapes fold, silhouettes of cowboys intertwine and collapse, long grass cradles dilapidated houses, a newborn calf shrugs off its placenta. We are asked to interpret memory in terms of space, as Lucier simultaneously captures the creation and annihilation of rural American culture. Comparatively, Phil Bender's exhibit is a meticulously ordered collection of objects not quite archaic, not quite present-day. Titled for the gallery space which is presumably the "last place" these almost-artifacts will be used, Last Place includes a series of tool boxes, beaded belts, wire whisks, matchbooks, yard sticks, hangers, tennis rackets and more. This project invites a meditation on how memory can settle on the object world and moreover, engaged in the obsessive habit of object-collecting, implies the perfectly human habit to obsess about (and attempt to organize an understanding) of the past. The most intriguing dynamic that arises between the two exhibits is the collision of memory with material to create artifact and legend, the collision of gallery space with memorial to expose the emotional presence of loss. Belmar Lab's current exhibits grapple with the relationship of creative exploration to the fleeting, abstract, never (quite) tangible procedures of how we remember.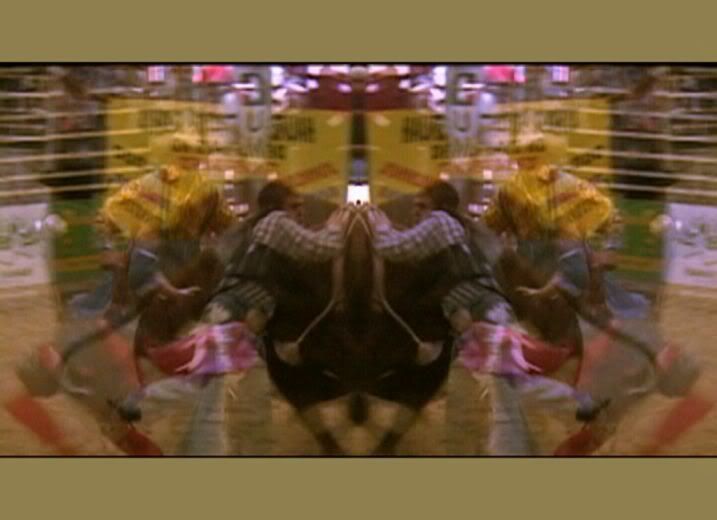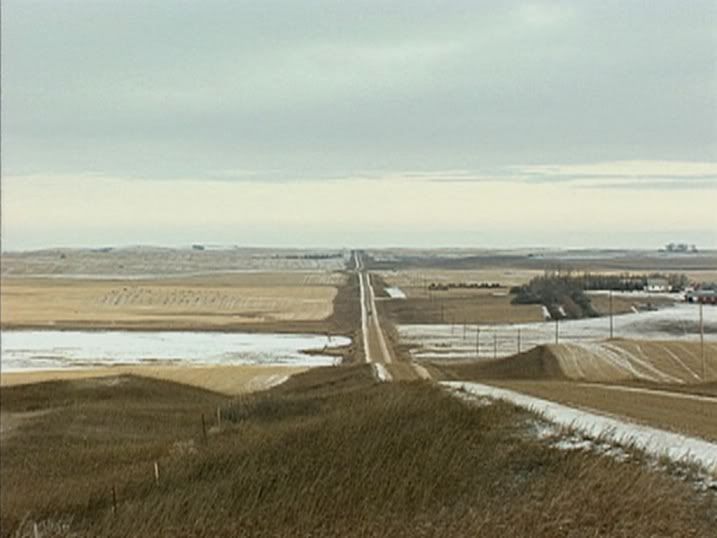 photos provided by Belmar Lab