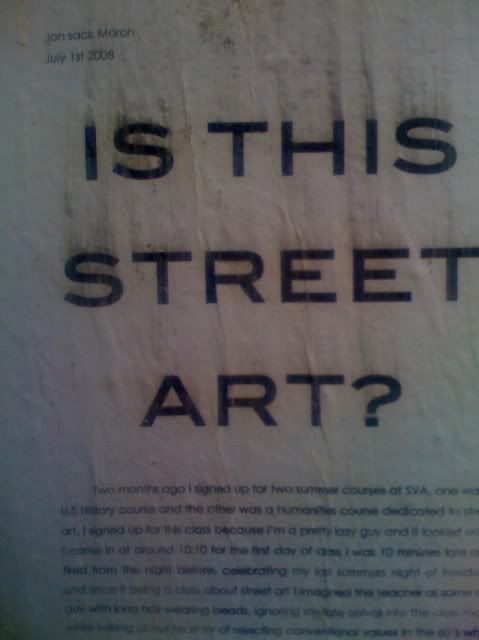 Does anyone have Mr JS Moron's full text? Send it to info@zingmagazine.com. 
In his current show at Tibor de Nagy, Jess Collins articulates the decisively different mediums of painting and paste-ups—one heavy and inflexible, the other thin and free flowing.
Jess' dense application of oil paint lends the heavy quality to his paintings. Layered thickly, these surfaces protrude from a two-dimensional level, their outward appearance bubbled and tactile. Although the paint varies in a spectrum of color, a duskiness pervades—a seriousness maintained by hard edges that delineate one color from the next and develop a puzzle-like veneer. The annexed colors create room for understanding the many pieces as solid, daring moments, like single puzzle pieces, and the paintings' bold quality results from this structural composition as opposed to the color anatomy.
The paste-ups, in contrast, are fluid. Jess grouped selections of magazine cutouts with pages torn out of books and placed them strategically so their images overlap, interlace, and ultimately achieve a larger, grand impression. This medium remains two-dimensional, but the variability of the sprinkled collage pieces allows for an abstract, dense space to unravel as the viewer traverses the image. The paste-ups range in color as well, but instead of resting in a dusky hue, the natural aging of the found materials achieves a mellow tone. Ultimately lighter-toned than the paintings, the paste-ups appear unburdened and almost translucent in their subtlety. The latitude becomes a provocation for foreign, exotic thoughts.
On first look, the mediums divorce Jess' work, but in paintings like "A Mile to the Busstop," one finds cohesion between the two extremes. Here, he uses thinner paints and the more graceful image of a mother and son walking together. Smeared colors give the walk an immediacy of pace and punctuated side images of a goose and balloon become fleeting as their edges dance in synergy with the surroundings. This otherwise traditional oil painting opens for the viewer in much the same manner as it does with the paste-ups. In culmination, a metaphysical atmosphere flickers throughout the image, and the manipulated elements exude sensation and intensity.
The paintings and paste-ups of Jess Collins will line the walls of Tibor de Nagy through July 31st.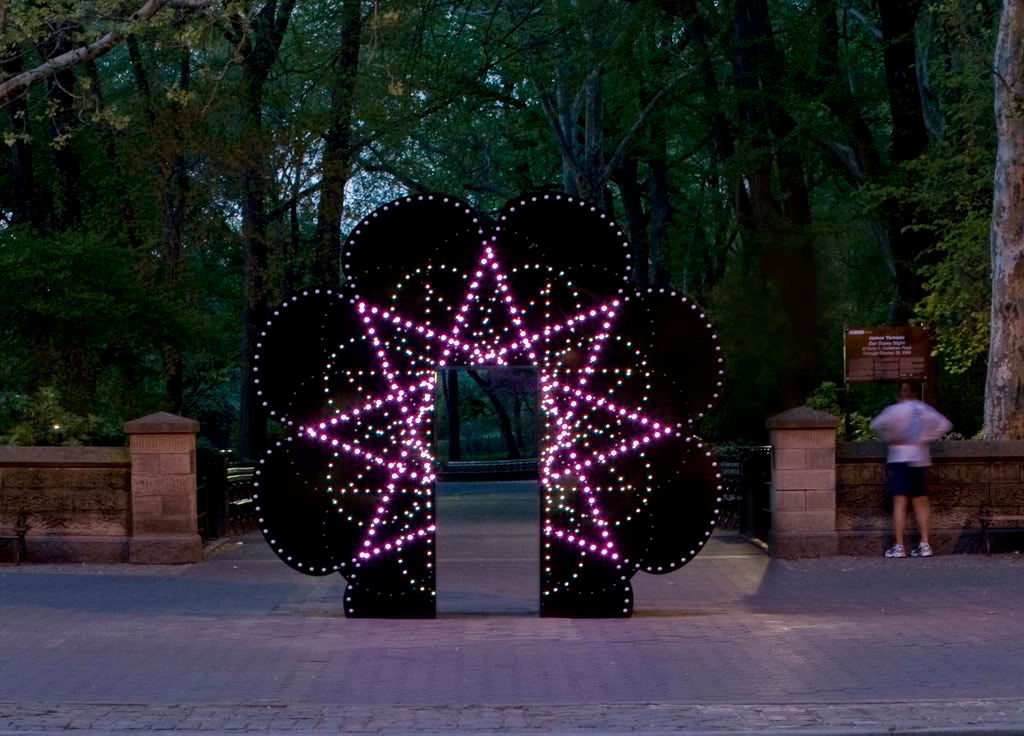 James Yamada's Starry Night at 60th St and 5th Ave, the entrance to Central Park. A hidden metal detector changes the LED lights to reflect the amount of metal on anyone who passes through the gateway. Presented by the Public Art Fund .
James Yamada
Our Starry Night, 2008
On view at Doris C. Freedman Plaza, April 28, 2008 – October 28, 2008
Aluminum, holographic powder coating, metal detector, colored LED lights, and miscellaneous electronics
12' x 12' x 3'4", doorway 6'6" x 2'8" x 3'4"
Photo by Seong Kwon, courtesy of Public Art Fund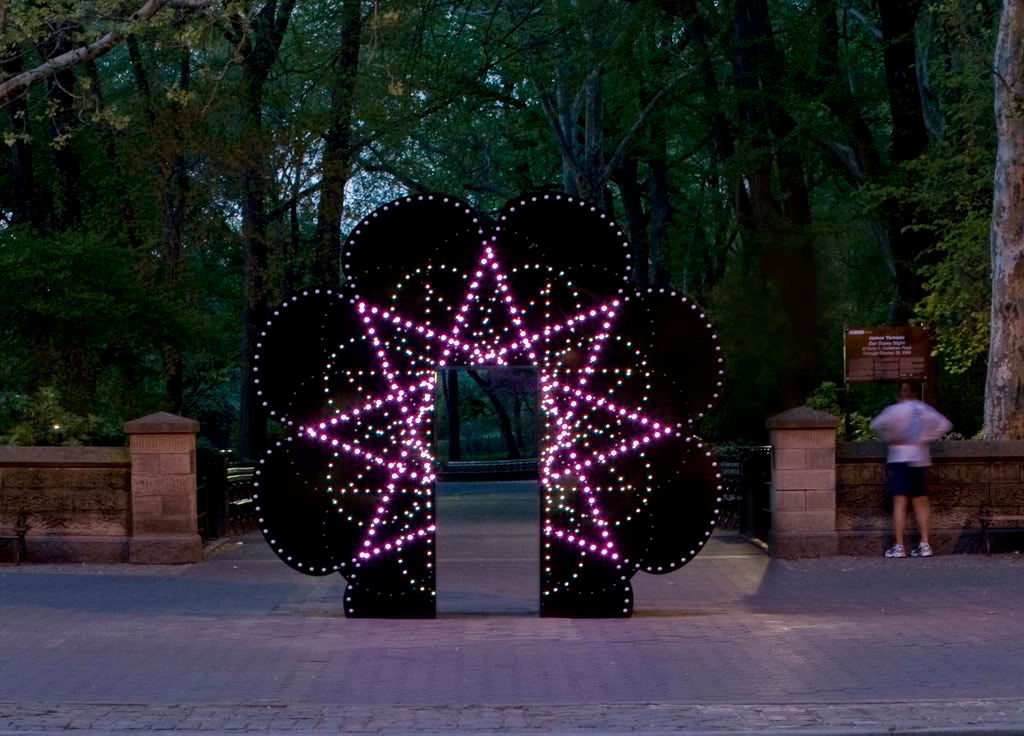 James Yamada's Starry Night at 60th St and 5th Ave, the entrance to Central Park. A hidden metal detector changes the LED lights to reflect the amount of metal on anyone who passes through the gateway. Presented by the Public Art Fund .
zingmagazine and the New School MFA Writing Program Host Vito Acconci
April 17, 2008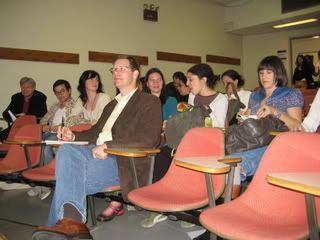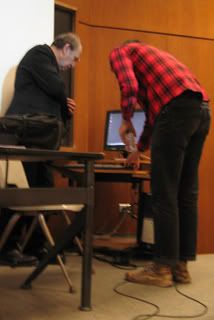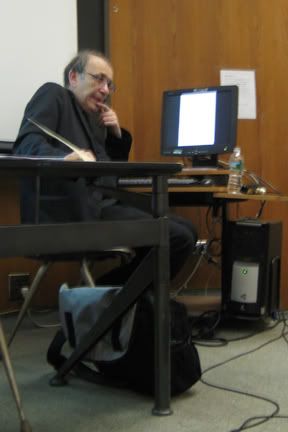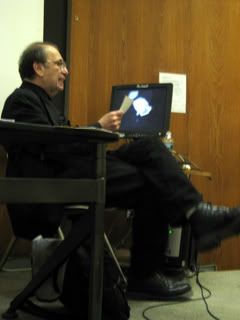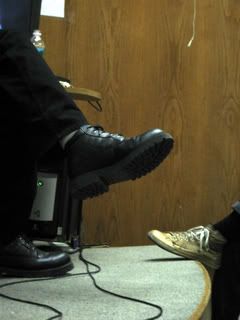 Storefront for Art and Architecture
[Wood-Paneled front, looks as if it were a boarded up building.]
On Mock-ups: Video Exhibition
Part II: Come to Israel: It's Hot and Wet and We Have the Humus
8 April—19 April 2008
Video works by Ruti Sela & Maayan Amir and Yossi Atia & Itamar Rose, Curated by Joshua Simon
Atia & Rose in Tel Aviv as fictional characters interviewing Israelis they meet on the street, take on the issue of the Israeli relationship with race, gender and sexuality. Sela & Amir cover internet dating sites, S&M services, and prostitution, exhibiting the playfulness of the Tel Aviv underground nightlife. For both duos costumes and characters are plentiful.
[Hidden in an apartment building on the ground floor, two rooms, stone floor.]
Matt Connors: Enjambment
13 March—20 April 2008
Most pieces can be defined by their bold (yet muted) colors and rough strokes. Geometrical, simple. The individual paintings are small compared to the large space. Bold yellow wall in the side room is a unique contrast to the stone floor.
[In Freeman's alley, big glass door with purple handles—really cool.]
Amy Bessone: With Friends Like These…
10 April – 23 May 2008
Bessone's paintings are large in scale and have an almost sinister air. The characters are cartoonish and have a glossy look. A particular piece that stood out is of a woman with a cape resembling butterfly wings. It is theatrical, elegant, and bizarre.
[Two levels, typical white box gallery.]
Frank Selby: We Weren't Never Here
27 March- 26 April 2008
Selby uses transparent paper and oddly arranged text to create an intellectually dramatic effect on certain pieces. The drawings shown are on the same transparent paper using black ink that creates thick drips and smudges. A notable piece was a spider web that had an eerie feel because of the drippings. There are several photographs of wooded scenes and civil war photos that seem simple and natural from a distance but are surprisingly crisp up close.
[In what appears to be a house, complete with gate and buzzer to ring for entrance.]
Brendan Fowler: last Disaster / first BARR
9 April- 19 April 2008
Fowler's work on display consists of mostly large framed pieces of white paper with hastily painted words sprawled across at odd angles. Together the collection of what seems to be lyrics speak of writing songs. There are also several deconstructed concert fliers with "canceled" stamped across them.
Kim Gordon Come Across
March 8 - April 9 2008
Kerry Schuss Art
73 Leonard Street
New York, NY 10013
Standing in the center of Kim Gordon's show at KS Art, surrounded by washy portraits of faces that appear to be watching you, or perhaps beyond you, the effect is one of performing for an audience; no surprise, considering Gordon's career in Sonic Youth and the years of blurry spectators and ghostly faces that must float in and out of her memory. They come out of and drift back into a blur, on the cusp of recognition.
Gordon has made twenty to thirty small watercolors for Come Across, which opened on March 8th. The exhibition also features an ambient sound piece—a collaboration with her husband and band mate Thurston Moore that permeates the gallery—and two off-white shag-rugs situated on the varnished wooden floor. The watercolors are painted on rice paper, some framed and leaning against wall-wedges, others hung, unframed, directly on the wall. Up close, they appear to be blobby abstractions, but at a distance, the floating blobs morph into ghostly, ethereal portraits. The works hold a delicate tension between abstraction and figuration, with compositions consisting of bleeding layers of pinks, greens, blacks, gently reflective grays, and glitter-like specks sparkling in the bright over-head lighting.
The title of this exhibition, Come Across, might serve as an invitation to viewers to cross the threshold from spectator to performer. The watercolors become a landscape of audience members and reverse our role, producing the feeling of being surrounded by hollow, gazing faces. The glitter on the portraits and metallic paint suggest a reflection of sorts, the sound element evokes what it must feel like to perform the same music again and again, night after night, and the shag rugs are the rugs we've seen countless musicians stand on while performing. By entering this exhibition space, we come across, moving onto a stage where we can consider the role of the performer and question our own role as spectator.
Contact Chris