NEWFILMMAKERS CELEBRATES THE FOURTH FILMMAKERS RECEPTION
Wednesday, July 4th
32 2nd Ave at 2nd St 
6pm and 7pm
Take a break from our films and join us for some wine & beer to celebrate the holiday:
SOME MUSIC VIDEOS (YOU DON'T SEE ON MTV)
Jon Hirschmugl                       Y PENSEZ-VOUS! (2007, 8 minutes, video)
Ana Hurka-Robles  WASTED LIFE: THE MUSICAL (2006, 8 minutes, video)
Jon Ermler                               PUMPING THE PIOUS (2006, 30 minutes, video)
The Unholy Battle Of Christian Bands
NEWFILMMAKERS SHORT MUSIC FILMS
Rami Fischler                         THE CHANGING MAN (2006, 3 minutes, video)
Australian Animation
Catherine McRae                    DO YOU BELIEVE IN RAPTURE (2006, 4 minutes, video)
Sonic Youth live at CBGB
Stephen Taylor                        THE END OF NEW MUSIC (2007, 50 minutes, video)
The Free Speech Zone Collective 2005 Tour
Craig Parish                            MORNING THEFT: SKETCHES OF SCOTTIE (2006, 35 minutes, video)
The life and times of cult musician Jeff Buckley with family pictures and rare performance videos

"Muñeca," 1968 by Carlos Pérez Siquier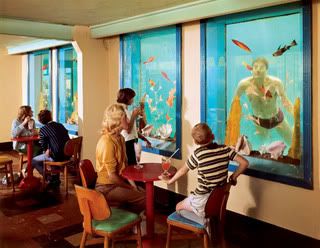 "Butlin's Ayr: Lounge Bar and Indoor Heated Pool (Ground Level)," 1970's, by John Hinde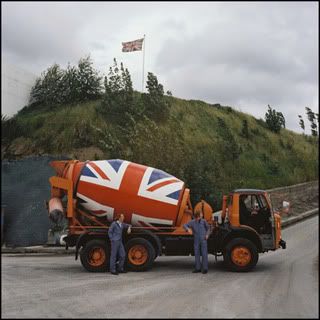 "Ready Mixed Concrete LTD, Leeds," 1977 by Peter Mitchell
New York Public Library's DeWitt Wallace Periodicals Room, 5th Ave.
at 42nd St.
6/9, 4 to 6:30 PM
The Magathon kicks off the weekend with a celebratory marathon
reading. Editors representing journals of different sizes and styles
will present favorite selections from their latest issues. Readers
include editors from A Public Space, Alimentum, Antioch Review,
Habitus: A Diaspora Journal, Lungfull! Magazine, Mid-American Review,
New York Quarterly, Opium Magazine, One Story, The Reading Room,
Redivider, Short Story, Stone Canoe, Tantalum, Tuesday; An Art
Project, Waterways, and zingmagazine.
From the press release: 
Housing Works Bookstore Café hosts a reading with Gabeba Baderoon, Yvette Christiansë and Nadia Davids on Thursday, June 7 at 7pm. Three South African women whose writings offer diverse views, understandings and representations of place, nation, belonging and womanhood. Together they present an unforgettable contribution to the South African literary landscape, and bring the diverse experiences of south African women to an American audience.
Gabeba Baderoon's poetry is often a narration of leaving home, assuming the life of an exiled adult, and negotiating her sense of self against the backdrop of a world demanding explanations for identity. An extract of Nadia Davids' play explores notions of home, loss, mourning, nostalgia and exile, all evoked in an attempt to recover the ephemeral landscape of District Six in Cape Town. Yvette Christiansë examines the history of South African slavery in her epic poetry.
Gabeba Baderoon is the author of The Dream in the Next Body (Kwela/Snailpress, 2005) and A Hundred Silences (Kwela/Snailpress, 2006). She received the DaimlerChrysler Award for South African Poetry 2005. The Museum of Ordinary Life, her short collection of poems and creative non-fiction, was also published in 2005. Her poetry has been published in several languages, and in many anthologies.
Nadia Davids is an acclaimed playwright and director; the recipient of two A.W. Mellon Fellowships and the winner of the Fleur du Cap Award for Best New Director in 2003. She has written and directed four plays, Khumbula (1995), Doc's Wife (1999) The Butterfly and the Wog (2000), and At Her Feet (2002) – which received international acclaim while touring Southern Africa, Holland and during two stagings in NYC.
Yvette Christiansë is a novelist, poet and scholar. She was born and raised in Johannesburg, Cape Town and Mbabane. Her book of poems Castaway was short-listed for the PEN International Poetry Prize 2001. Her novel, Unconfessed is based on the life of a Cape Colony slave woman (Other Press, November 2006). Her poetry, prose and scholarly writing have been published in South Africa, Australia, Canada, France and the USA.
Housing Works Bookstore Café
126 Crosby Street (one block east of Broadway between Houston and Prince)
Subway: W, R to Prince; B, D, F, V to Broadway/Lafayette; 6 to Bleecker
General Information: (212) 334-3324
5:30pm
Total running time: ca. 75 minutes.
Fernand Léger with Dudley Murphy
BALLET MÉCANIQUE (1924, 12 minutes)
Francis Picabia with René Clair
ENTR'ACTE (1924, 22 minutes, with Erik Satie score)
Man Ray
LE RETOUR À LA RAISON (1923, 2 minutes)
ÉTOILE DE MER (1927, 13 minutes)
EMAK BAKIA (1927, 18 minutes)
Marcel Duchamp with Man Ray
ANEMIC CINEMA (1926, 7 minutes)
Anthology Film Archives
32 2nd Avenue
New York, NY 10003 USA
Telephone: (212) 505-5181
Fax: (212) 477-2714
On the occasion of Eyebeam's 10th anniversary celebration and benefit, the "Celebrity Media Mash-Up Tenth Anniversary", arriving guests received electronic communication devices, created by networking specialists nTag and Dirt Party. The devices resembled television remotes on a string and guests wore the gadgets around their necks. Hold two up to each other, and each wearer's name would appear on the device's screen. By the end of the night, guess could tally up how many "friends" they'd made. Thus was created a digital social network that facilitated socializing—a more immediate and effective MySpace.
And herein lies Eyebeam's auspice: a heavy emphasis on audience participation, as evidenced by its offering of classes, the cooperative art on display at the party, and previous projects such as Evan Roth and James Powderly's electronic graffiti. Senior Fellow and advisor Cory Arcangel cemented this notion with his later statement that he didn't believe in the idea of The Artist being a solitary genius. Eyebeam not only facilitates new digital media, but also allows such media to be shared and even tried out by the masses.

As guests ventured further into Eyebeam's space, they were confronted with work created by artists-in-residence and fellows. All the art on display required audience participation. Cory Arcangel's "I Shot Andy Warhol" video game, for example, allowed players to wander a Super Mario-esque world, taking aim at Warhol with a plastic gun while avoiding such uncanny characters as the Pope, Colonel Sanders, and Flavor Flav.
Similarly, Steve Lambert's "Simmer Down Sprinter" looked like a regular two-person arcade racing game. Lambert himself appeared on the screen, jogging around a track, sporting a bushy beard and goofy running uniform. In place of traditional foot pedals, fingertip sensors tracked players' blood flow, and racers had to relax to win. Get too stressed out, and Lambert would start running backwards. Lambert and his crew spent the evening wandering around in red tracksuits to match the game.

Other artists and Eyebeam employees wore hot pink and purple wigs. The colorful hair matched a photo booth that, for $5, printed Polaroids that looked like they'd been drawn in neon. Further installations included large screen projections of tabloid papers featuring photos taken at the party ("tabloid karaoke") and an outdoor green laser "drawing" on the façade of an opposite building.

From 7 to 8:30pm, ticket-holders were served cocktails and dinner in a plush lounge area. At 8:30, the night's entertainment began with an introduction by Aasif Mandvi (The Daily Show's "Middle-East correspondent"), in which he teased Eyebeam for its perplexing self-description and the presumably few people who understand it. He continued with cracks about the Middle East, appropriate given that the anniversary celebration also served to honor Arianna Huffington and Lawrence Lessig, two champions of free speech.
Eyebeam's director emeritus Jonah Peretti followed Mandvi with the comment that he "wasn't 100% sure exactly what Eyebeam is either," but went on to explain that it's

"…like a research lab, but doesn't have the stuffiness of academia, so you can do research on projects, but don't have to worry about tenure and politics. It's like an arts collective, but arts collectives usually are in warehouses with no resources, and Eyebeam has 3-D printers and laser cutters and high tech tools for artists to use. And it's like a think tank, but instead of just thinking about ideas, you do things in the world; you can make things and put them out there, have intervention, have an impact."
As festivities wore on, Eyebeam's speakers continually brought up the fight for freedom of expression. Founder John Johnson referred to an eroding circle of free speech and went on to say that Eyebeam promotes freedom of the arts. He introduced Arianna Huffington, who was being honored for her role in preserving artistic freedom. Huffington was unable to attend due to an eye injury, but accepted her honor via video. Her next project will be called "Off the Bus," and consists of hiring volunteer journalists to cover the next election, in the hopes of avoiding the partisan pandering so entwined with mainstream media.
Later in the night, guests enjoyed music by DJ Spooky and DJ N-Ron Hubbard, rapper Juice Boxxx, and DVD spinning group Eclectic Method. The couches spread throughout the lounge area left little space for moving, but some guests made their way to the stage to dance, including Eyebeam's spry founder, Johnson.
As the party wound down and guests began to leave, the walk outside gave them another look at the aforementioned green laser. A giant smiley face doodle, brightened by the late night dark, bid farewell. For an organization so hard to define, Eyebeam's lasting impression is unusually clear and optimistic: openness to new ideas, devotion to public art and freedom of speech. As artist Chris Sugrue told one guest, "Eyebeam is one of the few places where people come in with preconceptions and end up with collaborations."
On May 16th, 2007, Juan Gomez was presented with the Richard and Hinda Rosenthal Foundation Award at the American Academy of Arts and Letters. An exhibit of his work, along with the work of other award winners, runs all month. Juan also appears in zingmagazine issue #21.
From the American Academy website:
The Rosenthal Foundation supports two awards of $5000. One, established in 1956, is for a work of fiction published during the preceding year that is a considerable literary achievement. The second, created in 1959, is for a young painter of distinction who has not yet been accorded due recognition.